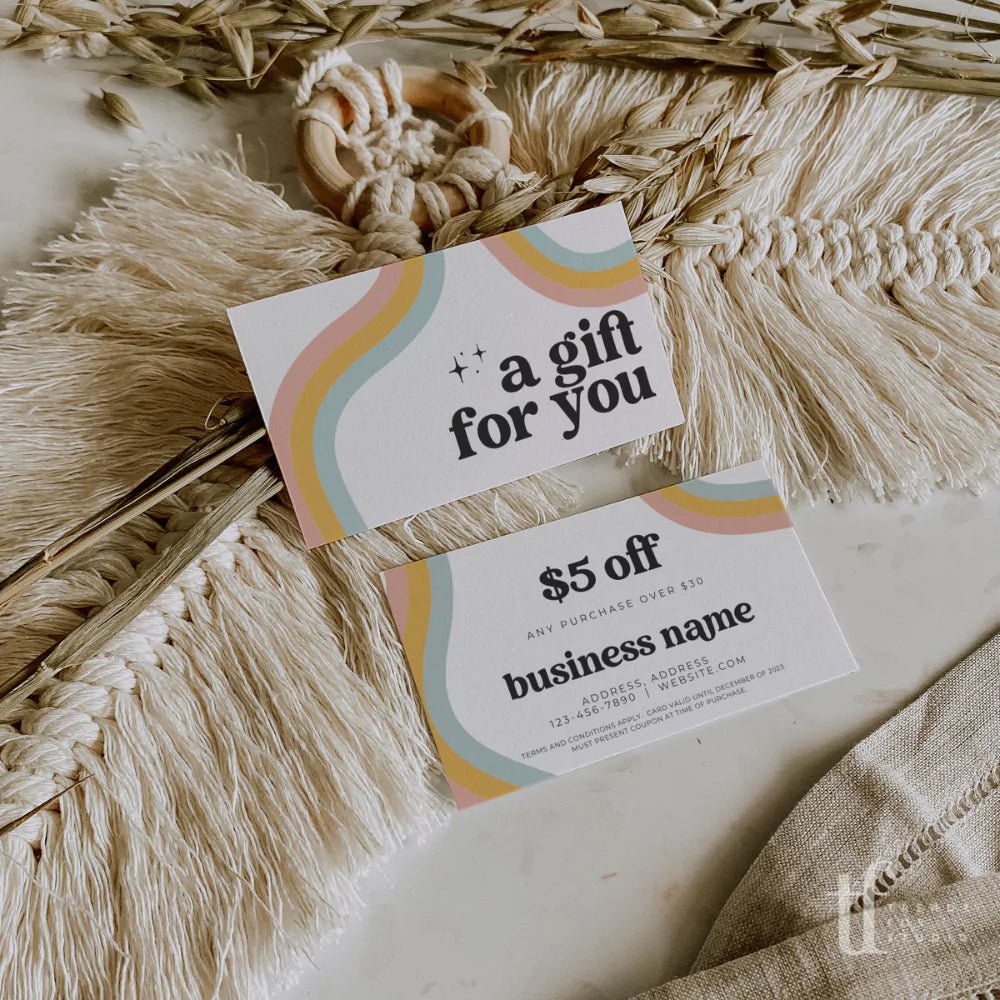 Retro Rainbow Coupon Card, Discount Card Canva Template | Dani
Attract new & repeat customers by offering them a discount on return visits using this retro style Coupon Card Template. Just add your business info, download, & print!

Everything is editable - change colors, fonts, and graphics all using Canva.
This DIY (do-it-yourself) template is fully customizable and very simple to use. There is no software or fonts to download - Simply edit it in Canva (for free) using your PC, tablet, or mobile device. Once edited and downloaded, you can print immediately at home, or through any local or online printing company.
YOU WILL RECEIVE:
 - (1) Business Card Canva Template 3.5"W x 2"H; Front & Back Included
 - Print & Cut Canva Template (for at-home printing) that allows you to print multiple to a single 8.5x11" page
This item is an INSTANT DOWNLOAD and will be available immediately after purchase.
This item is a digital template ONLY! No printed items included – you will need to print/order your cards.
As printing is done externally, Trendy Fox Studio holds no responsibility for printing results.
LICENSE:
One purchase allows the purchaser to use the template to create their own business cards.
You cannot re-sell the design or the template. You cannot use the template for client work.
Boho Coupon Card Template, Printable Business Coupon Canva Template, Retro Business Card, Business Marketing Card Promotional Card
This is a self-edited Canva template. You cannot use any other software to edit outside of Canva.
To customize this template,
- You must have a Canva account. It's FREE to sign up. Or you unlock more features with CANVA PRO (get 30 days free using our link)
- PDF Reader to open the PDF document that includes the links to the Canva templates.
- Once you receive the PDF document, open it, and click the link to open your template in Canva.
- Edit any or all elements, mix and match pages, add new pages, do what you need to, to create your unique product using this template.
- This template works best to edit using a computer, not a mobile device.
- NOTE: Due to the nature of digital items, no refunds or cancellations can be provided.
This item is for personal use only. This item may not be redistributed or resold. You cannot share or sell templates, designs, or elements included in any shape or form. You may not resell, reproduce, distribute, or profit in any way from the design. You may not resell the template or design in digital or physical format.
Due to the nature of digital items, no refunds or cancellations can be provided.
See our full License Terms & Conditions here.
Share
Canva Templates
A Canva template is a design that we have created that allows you to easily edit it using Canva.com or the Canva app. The frame of the design is created for you, then you can change the text, fonts, or colors to put your creative stamp on it and make it suit your business needs.