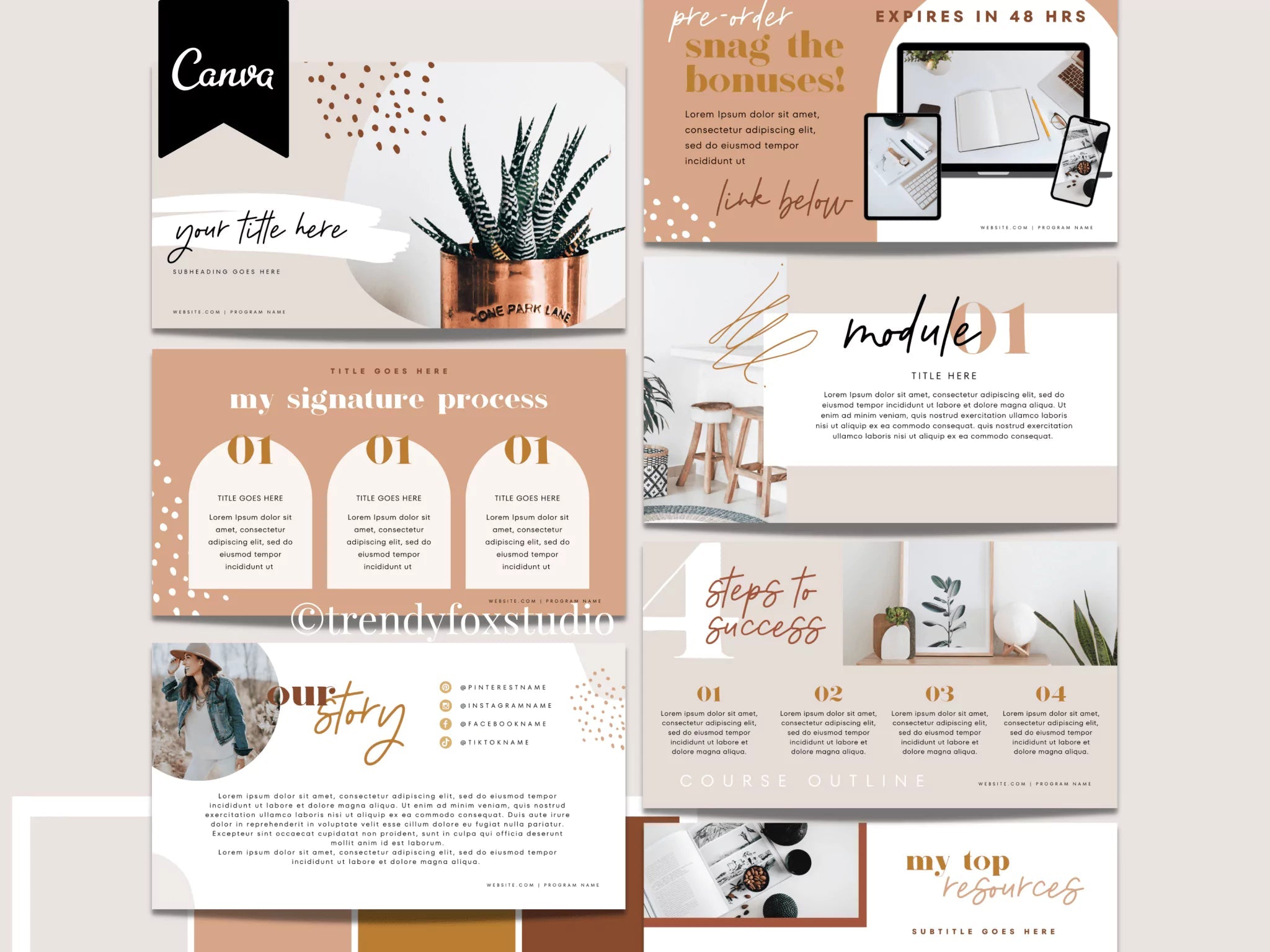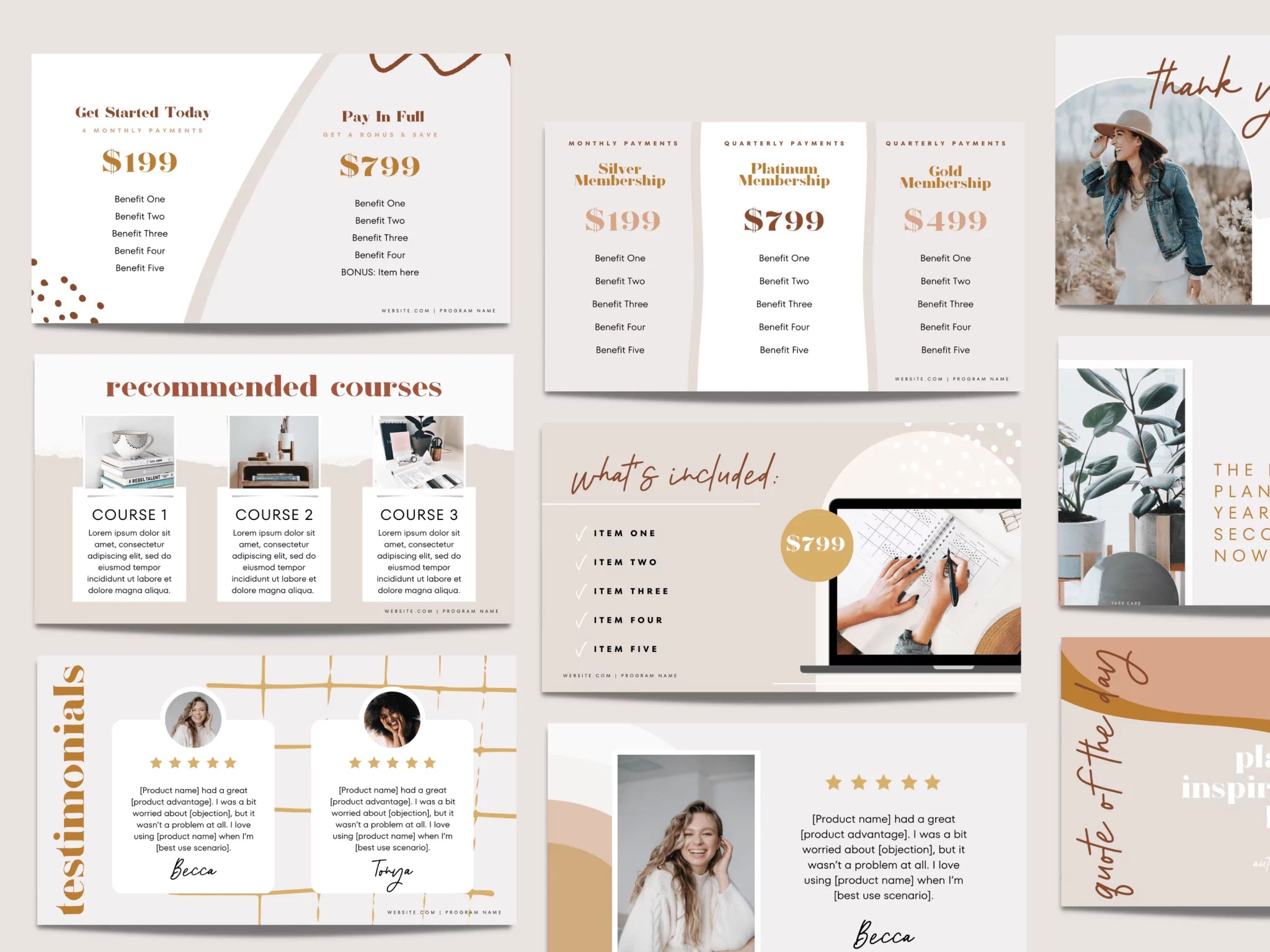 Boho Course Creator Presentation or Masterclass Slide Deck Canva Template
Don't feel overwhelmed by creating a slide deck for your new course, presentation, or ecourse. Created in Canva, this slide deck template will save you time and create a professional-looking digital presentation to impress your clients or customers.

This template clearly helps your clients visualize working with you. Showcase your products, explain your program or workflow, pricing, payment options, and more. Clients will easily grasp the project or program process and feel completely confident in choosing your business.
▶︎ ▶︎ This template can help you:

+ Introduce yourself and your business or program so your clients understand what you're about
+ Create an organized method for onboarding & set clear customer expectations
+ Display your pricing and service offerings
+ Promote your services, products, and bestselling items
+ WOW your clients with an amazing first impression!

Edit colors and fonts to match your branding. Drag and drop to replace the images with images of your own! Use Canva's library of thousands of free images to make the slide deck unique!
WHAT'S INCLUDED: 55-page slide deck template (1920 x 1080 px)

+ Front Cover (3)
+ Welcome / About (3)
+ Course Outline (2)
+ Module Introduction (3)
+ Content Pages (11)
+ Call to Action (4)
+ Freebie (3)
+ Charts, Tables, & Diagrams (8)
+ Resources (3)
+ Quotes (3)
+ Results & Stats (2)
+Testimonial (2)
+ Sales & Bonuses (5)
+ Q & A (1)
+ Thank You (2)

*This template requires basic Canva knowledge.*
This is a self-edited Canva template. You cannot use any other software to edit outside of Canva.
To customize this template,
- You must have a Canva account. It's FREE to sign up. Or you unlock more features with CANVA PRO (get 30 days free using our link)
- PDF Reader to open the PDF document that includes the links to the Canva templates.
- Once you receive the PDF document, open it, and click the link to open your template in Canva.
- Edit any or all elements, mix and match pages, add new pages, do what you need to, to create your unique product using this template.
- This template works best to edit using a computer, not a mobile device.
- NOTE: Due to the nature of digital items, no refunds or cancellations can be provided.
This item is for personal use only. This item may not be redistributed or resold. You cannot share or sell templates, designs, or elements included in any shape or form. You may not resell, reproduce, distribute, or profit in any way from the design. You may not resell the template or design in digital or physical format.
Due to the nature of digital items, no refunds or cancellations can be provided.
See our full License Terms & Conditions here.
Share
Canva Templates
A Canva template is a design that we have created that allows you to easily edit it using Canva.com or the Canva app. The frame of the design is created for you, then you can change the text, fonts, or colors to put your creative stamp on it and make it suit your business needs.