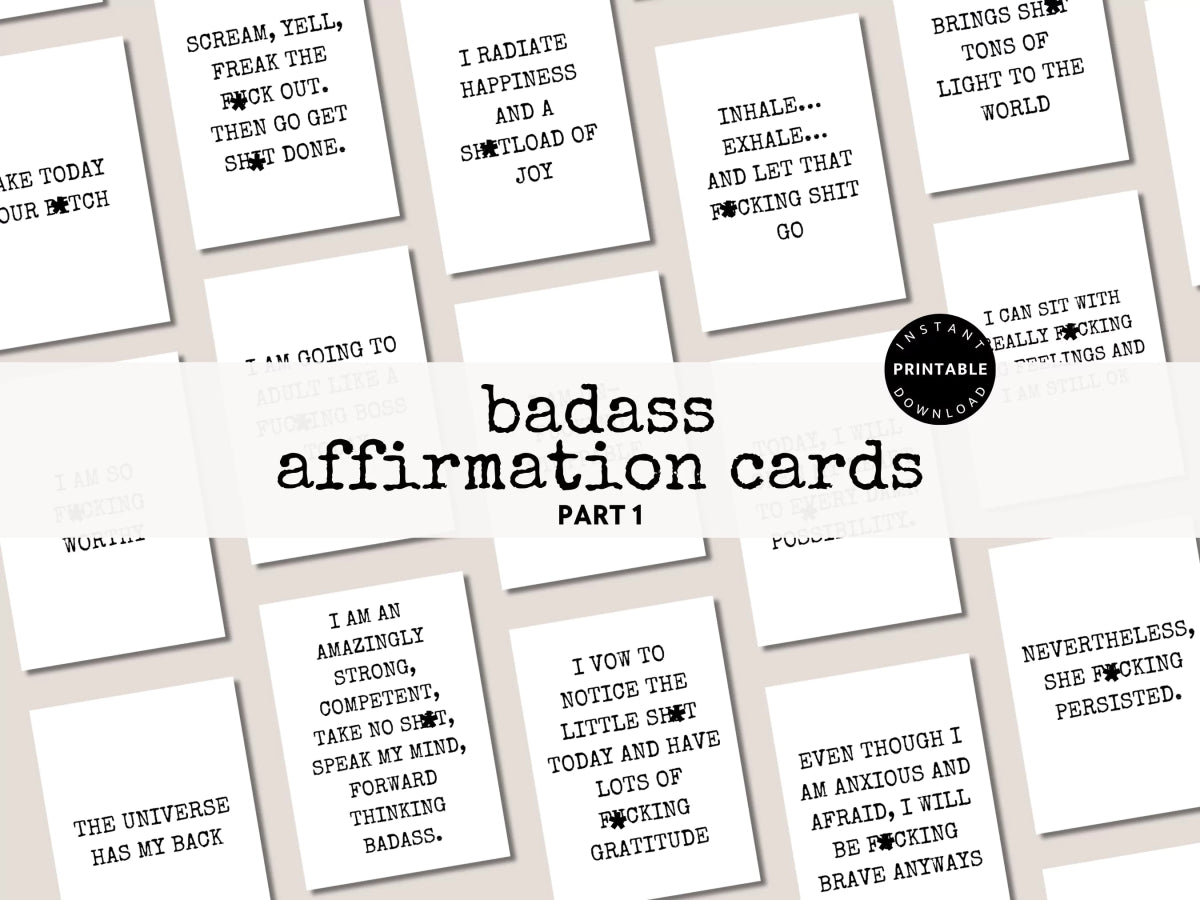 Sweary Affirmation Cards, NSFW Bada$$ Affirmation Printable Card Deck Part 1
This funny black & white printable Badass Affirmation Deck is designed for no-nonsense daily inspiration, wisdom & courage. Affirmations are a proven method of self-improvement - get this funny, swear-filled, NSFW digital card deck for when you just don't give a f**k anymore and need a good kick in the pants!

We all make mistakes, have bad habits, and make bad choices - and that's ok. Affirmations are intended to help change the way you think, over time. Not every affirmation is for everybody - and this to-the-point printable card deck is for those of us with a darker sense of humor.

CAUTION: Contains swear words that may be offensive to others.

The cards are ready to print! Simply DOWNLOAD > PRINT > CUT! Enjoy!
*All of our Badass Part 1 affirmations have the same sayings, just a different design.*
YOU WILL RECEIVE:
1 PDF file (print ready) containing:

- 48 - 2.5"W x 3.5"H affirmation cards
--> 6 Pages - 8 Cards to a page - ready to print!
This item is a digital download ONLY! No printed items included – you are responsible for printing yourself or having them professionally printed.
As printing is done externally, Trendy Fox Studio holds no responsibility for printing results.
HOW TO USE:

- Print to US Letter or A4 paper, then trim to size.
- Recommended paper - 70 lbs to 110 lbs cardstock (depending on your printer capabilities)
- Trim lines are provided to make them easy to cut out with scissors or cut tool.
LICENSE:
Personal use only, not for commercial use.

You cannot re-sell the file or item in physical or digital format
Printable Badass Affirmation Cards Sweary Affirmation Deck Motivational Printable Cards Maybe Swearing Will Help Encouragement Digital Cards
This item is for personal use only. This item may not be redistributed or resold. You cannot share or sell templates, designs, or elements included in any shape or form. You may not resell, reproduce, distribute, or profit in any way from the design. You may not resell the template or design in digital or physical format.
See out full License Terms & Conditions here.
Share
Once your purchase is complete, you will be able to download the files from the order confirmation screen. A confirmation email with link to download your items will also be sent to you.
If you have created an account, your orders will be visible within your account orders page.
PLEASE NOTE: You are limited to 3 downloads per item and the links expire after 365 days.
Due to the immediate, digital nature of the products sold at Trendy Fox Studio, all sales are final and refunds/exchanges will not be provided as the items cannot be returned. It is your responsibility to read the full product listing description before you make a purchase and to ask any questions beforehand.